Cancellations or refunds are possible only under extenuating circumstances under Generac's discretion.
To request a refund for a subscription, you would need to reach out to your Inside Sales Representative.
Fleet subscriptions not applied to a generator are valid for 2 years.
Once a subscription is applied to a generator, it is valid for 1 year.
If for some reason you need to remove a subscription from a generator, it will be credited back to your Fleet pool up to 45 days from date the subscription was applied in Fleet. (if a subscriptions is eligible it will show in the pop up box.
First bullet in picture below.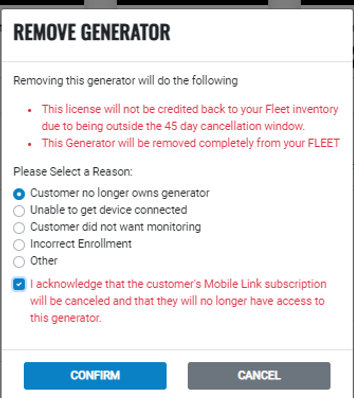 If the subscription can be returned the bullet will be green.
If the subscription is not returnable the bullet will be red.