FLEET Release 4.9.0 7/13/2022
Take advantage of more insight and awareness into your customers' propane fuel level. In Fleet release 4.9, you will now be able to configure fuel alerts to notify you immediately if propane level is running low. This new capability is crucial to ensuring your customers generators are ready to run if they are needed.

Now you can drive your customers' uptime even higher when you attach an LTE Tank monitor and enroll it in Fleet.


Tank Utility Integration – Subscribe to notifications for Tank Monitoring Alerts
Fleet Users can now subscribe to notifications for Fuel Tank Monitoring devices.
Dealer notifications will include:
Fuel Level – will send notification for fuel level warning and fuel level critical.
Battery Level – will send notification for battery warning and battery critical.
Notification preferences can be managed in the Default Notifications window in the Manage Notification Recipients Page.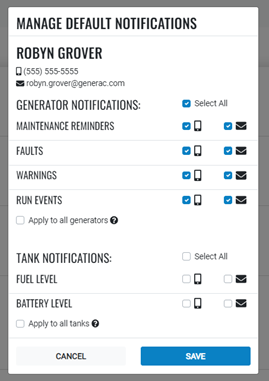 Preferences can also be managed for a specific fuel tank in the Notifications tab on the Tank Details page: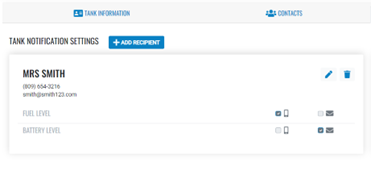 Tank Enrollment –
We have updated the enrollment process to allow enrollment of tank monitors that are enrolled to a customer's Mobile Link account. This will allow dealers to upgrade a consumer's subscription to a Dealer Managed Tank Monitoring subscription. We will continue to limit enrollment to LTE devices only.
Edit Tank configuration
Fleet Users can now manage the configuration/tank information.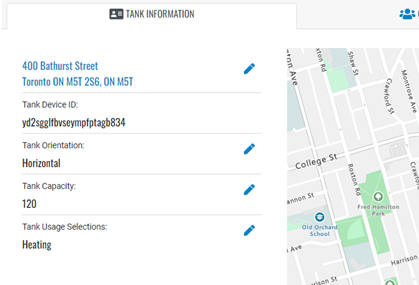 The pencil icon will enable the edit functionality.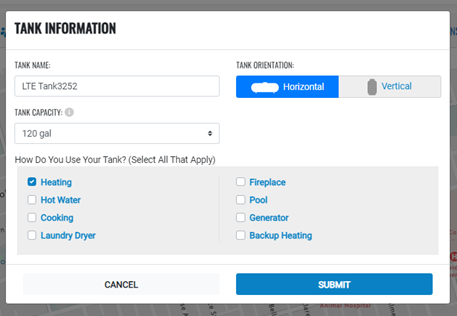 Click "SUBMIT" to save your updates, or "CANCEL" to exit the edit view without saving.
Remove Tank/ Cancel Tank Monitoring
Fleet users can now manage Tank Monitoring subscriptions using the Cancel Subscription or Remove Tank buttons on the Subscription tab of the Tank Details page.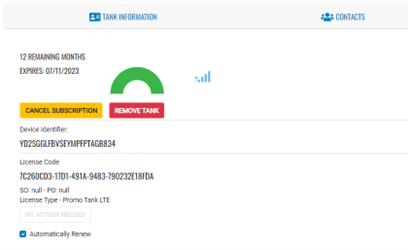 Subscription Management:
Users who use renew subscriptions using the RENEW NOW option on the Subscriptions page will now receive an email confirmation after the renewal process has completed.
NOTE: The user must be listed as a notification recipient to receive the renewal confirmation email.
#####
How can we help you?
Our customer care center is here for you 24 hours a day, 7 days a week, 365 days a year.